4th Venezuelan Christmas Bazaar
December 11, 2021 @ 10:00 am

-

4:30 pm

PST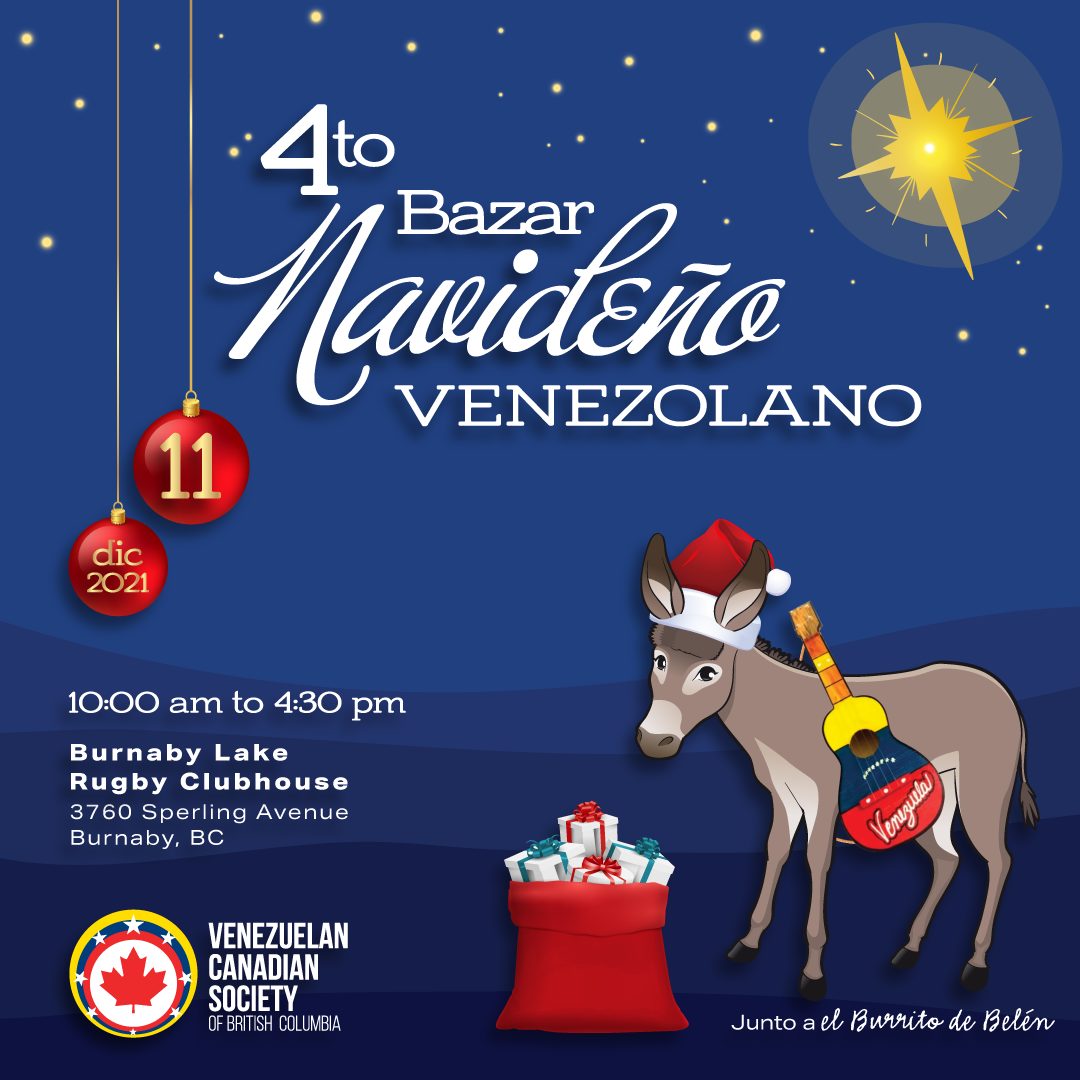 We proudly invite you to attend our annual event, the 4th Venezuelan Christmas Bazaar with the aim to promote Venezuelan businesses and talent in BC.
Doors open to public: 10:00 am – 4:30 pm
Drop by and enjoy an afternoon with friends, family, and colleagues and immerse yourself in Venezuelan culture.
Take this opportunity to finish up some of your Christmas shopping and support these Venezuelan artists and entrepreneurs.
If you wish to promote your products and services at the Bazaar, you need to reserve a table.  Tables can be reserved below.
This year the Bazaar will look a little bit different due to COVID-19 protocols and in accordance with Provincial Health Authorities (PHA) guidelines.  For starters:
We will have limited capacity of guests (because of this, you might have to wait in line a few moments before entering the building)
We will have fewer tables / vendors to allow for proper distancing
MASKS will be required indoors.  Everyone that is 5 years old or older will need to wear their mask while inside, unless you are sitting at your table
PROOF OF VACCINATION will be required at the door (everyone must be fully vaccinated)
There will be no food to be consumed outside of a table
All food items are to be packed in a to-go container
Suggested donation at the door: $5 p/person or $10 p/family.
All proceeds from donations will be used to help Venezuelans in need. 
You can also bring non-perishable food items that will be donated to the Greater Vancouver Food Bank (GVFB)
Only non-perishable food items (pasta, rice, canned items, etc.) will be accepted.
Cash donations are preferred as each $1 donated allows them to purchase $3 worth of food.
All food items collected during the event will be transported to their Vancouver distribution centre.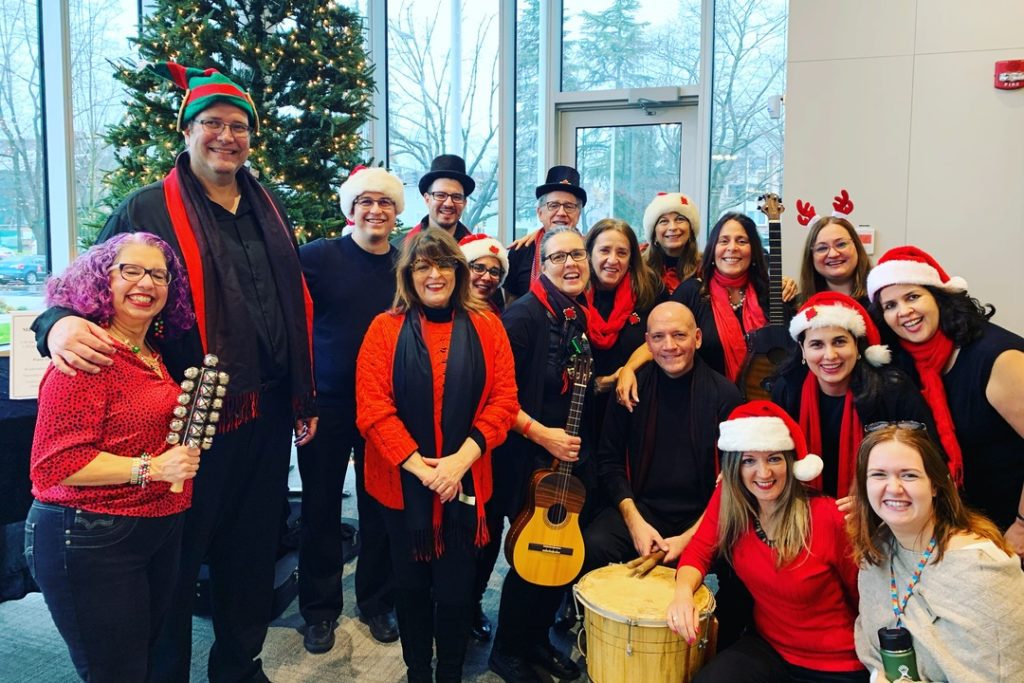 We are working to bring you some live music from various Venezuelan groups (but they are yet to be confirmed) – stay tuned.
We hope to see you there!
Vendor tables have a cost of $60 (CAD).  Scroll down to reserve your table.
Most tables are 6ft long tables. We have a few shorter ones as well. If you require a short table, let us know with your reservation or with a follow-up email.
Doors will open to the public at 10:00 am and will close at 4:30 pm.
Vendors can arrive at 9:15 am for setup. Doors will not open earlier.
We will not provide any table decorations, just a simple black table cloth to cover them
Thank You for Your Support! Last table remaining!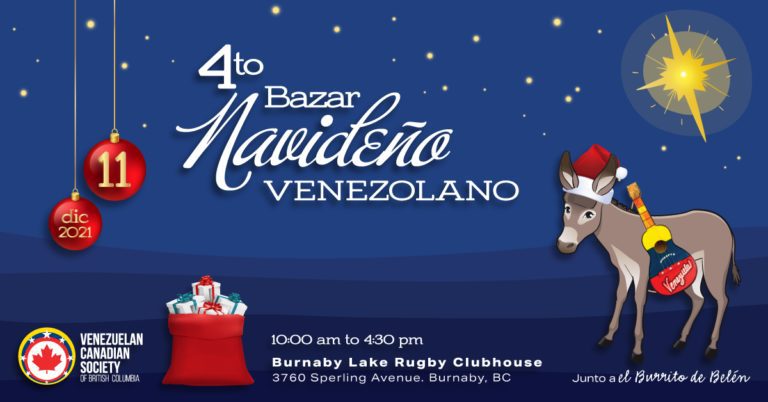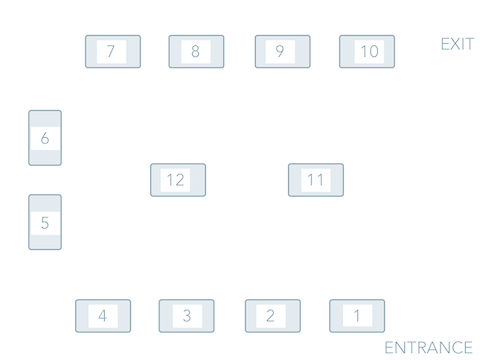 Have a look at the floor plan above and find the table you would like to reserve.  Scroll down to make your table reservation by filling out the form below.
If your desired table is not selectable in the form below, it means it has been reserved already.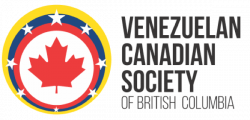 Reserve your table by filling out the form below.
If a table is not selectable in the registration form below, it means it has been reserved already.
2021 Vendor Table Reservation