How to Sketch a Super Hero – Part 3
August 22, 2020 @ 10:30 am

-

11:15 am

PDT

Free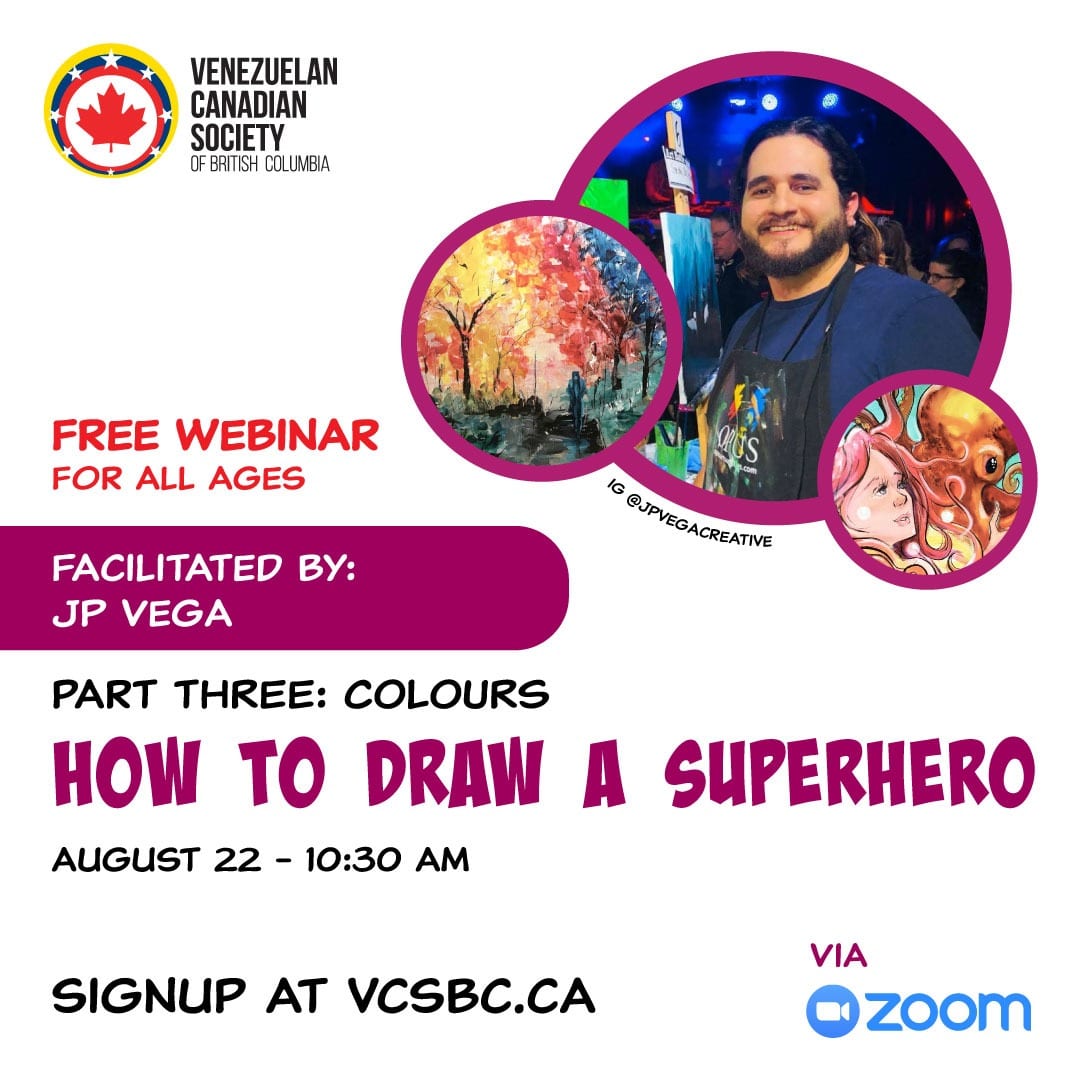 How To Sketch a Super Hero – three-part series
Super talented, local artist: Juan Pablo Vega will teach us how to draw a comic book character (like a super hero) in a three-part series:
Intro to drawing and sketching, line tracing
Inks, details, lighting, and shading
Adding colours and finishing touches
The lessons will be done online via Zoom to the audience.
The final artist rendering will be turned into a 2″ x 2″ sticker that participants will receive via postal mail for their enjoyment and as a participation token.
There is no cost for participants but online registration is required to gather feedback after each session and to send them the sticker via post mail (after the final session)
Please note, participants are encouraged to attend all three lessons to receive the sticker.
The link to attend the event will be sent via email to those who register.
If you missed our Part 1 or Part 2 (link to be added soon )  of the series, feel free to visit our YouTube Channel and watch them there ahead of this session.
This is Part 3 of a Three-Part Series.
Part 1: August 8, 2020
Part 2: August 15, 2020
Part 3: August 22, 2020
All sessions start at 10:30 am via Zoom.
For This Session You Will Need
Items from Part 1 and Part 2, plus:
Coloured pencil crayons
Coloured markers
Items from Part 1 and Part 2, plus:
Acrylic paint
Pastel coloured chalks
Watercolour paints
Juan Pablo Vega (JP Vega) was born in Venezuela and established himself in Canada. He is known for his comic book illustration style, modern, abstract visuals, pop-art and street art.
His work includes projects from web games, fantasy art commissions, cartooning, educational support material, advertising and film concept art.
Storytelling is the main focus of his work. Through fantasy art he also finds an escape from reality and the freedom of expression coming alive with his paint strokes.
Currently, JP is established in Vancouver where he exhibits his artwork (paintings) while has commissioned work in Europe, Australia and America.
Juan Pablo works both digital illustration and traditional media projects as well as creating content on social media.
Follow his art stream on instagram @jpvegacreative